I've married so many lovely couples, and met so many talented wedding peeps along the way. Here are a few nice words from just a few of my favourite people to work with.
TIMES OVER!! Not only did you marry us, but you were such a wonderful piece to our Wedding day puzzle. Thank you for everything darling, we had so much fun and you fit right in with us and our best friends and family. - Rachel & Matty x
[Photo Credit: Mark Jay Photography]
she is funny, as engaging as she is warm, Kristie is one of the absolute best in the business. You won't find a nicer chick and you'd be hard pressed to find a better celebrant! She really does love what she does and her joy is contagious. Do yourself a favour!
Kristie's smiling face when I arrive to floral up a wedding ceremony. I know my bride and groom are going to have a ceremony full of love, laughs and emotion.
how beautiful the ceremony was, and Steve and I loved it. You have such a positive, friendly, calm energy, and it definitely came through in the ceremony. We couldn't have asked for a better ceremony, or celebrant!! Thank you so much for all the time you took perfecting everything for us - we know it's a lot of work, and we really appreciate it! Thanks so much again, it was such a wonderful day!! - Sarah and Steve xx
[Photo Credit: Thomas Stewart]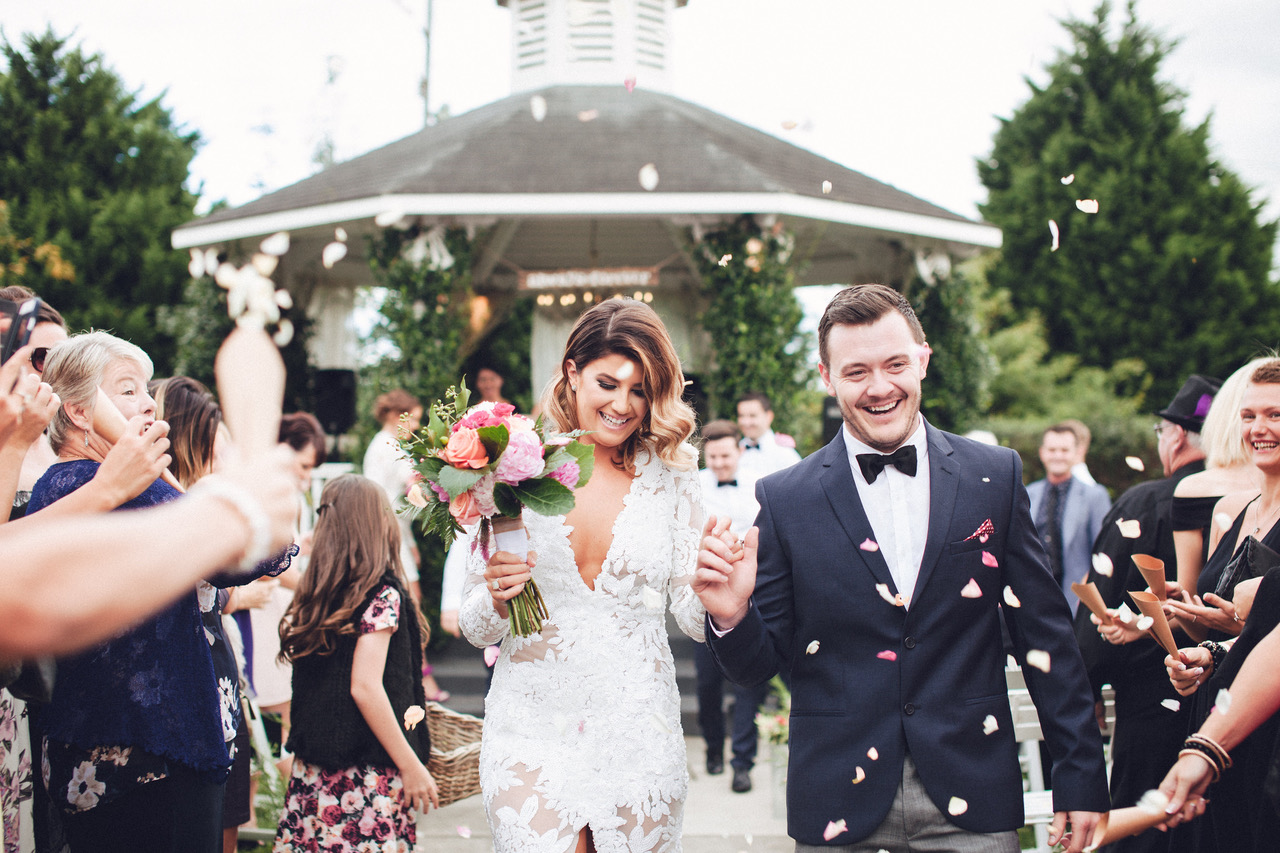 Jade and Blake had a great
experience with all their vendors, but a special shout out goes to their celebrant, Kristie Wilkinson. "I have to say, Kristie is amazing," Jade tells us. "She really puts in so much effort to get to know her couples before the day and I feel as though our ceremony was a true representation of us!" - Jade and Blake, as told to Nouba Magazine
[Photo Credit: Studio Something]
Kristie knows what she's doing
AND will make your ceremony epic. If you're after a stock standard wedding then probably don't book Kristie.
Matt, Evoke Company
when it comes to recommending a Celebrant to my clients. As a Wedding Planner I choose only to work with the best of the best in the industry, and Kristie is always professional, always a pleasure to work with and always conducts the most beautiful ceremonies for our couples (not to mention she is an absolute hoot to have around!)
Rhianna, Special Event Planners
and see that Kristie is the celebrant, I do a crazy happy dance with a few squeals thrown in for good measure! Why, you ask? Because I know the ceremony is going to be awesome, fun and personal. Also she has a hot husband, which isn't really relevant, but hey, I'm a visual person!
a more honest, down to earth, beautiful, earthy & real chick to marry us. Kristie goes the extra mile, she feels and lives the love & brought out the raw beauty of our love story! The celebration, gay or straight, this girl feels the love, is amongst the love, and celebrates the most unique & treasured love of any love on this planet.
- Juanita and Tara
Kristie performed a beautiful
wedding ceremony that perfectly summarised who Jarryd and I were as people and the relationship we have as a couple. It moved us all to tears and encapsulated exactly what we wanted to promise to each other as we became husband and wife. She was able to guide us to write our own vows and include personal stories that enabled the ceremony to be truly unique to us. It was only fitting that we wanted to ask Kristie to perform our daughter's naming ceremony where we exchanged our wedding vows. She was able to involve our family and gave us beautiful suggestions to make our little girl's day truly special. Thank you Kristie, you have a special place in our lives and we will always want you involved in our future special events. - Jess and Jarryd
[Photo Credit: Anna Blackman Images]
Interested in being Married by Kristie?